Samsung's new One UI 2.1 based on Android 10 arrived to Galaxy Fold users last week and now the 5G variant of the handset is also getting it. Sure, it's a pretty big delay for a flagship phone like the Galaxy Fold but we understand that due to the unique form factor, the developers had to overcome some hurdles and optimize the experience for the unique display configuration.
And naturally, the special 5G variant probably required some more tweaking because of the 5G modem. The new firmware is F907BXXU3BTC9 and also brings the March security patch. It's a big one too – 2.35GB but contains plenty of features such as Quick Share, Music Share and more polished Night camera mode. Screen recording is also a new addition to the feature list and, of course, the more detailed location permissions coming with Android 10.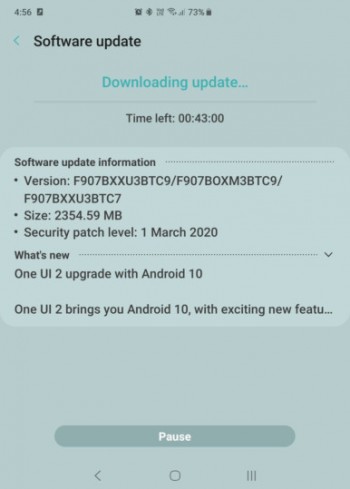 The update is currently rolling out to UK users but will hit your market shortly after that. You can always try checking for the update manually through the Settings menu.
Via
Share it