Now that the speed-binned and overclocked Snapdragon 865+ is already a reality, it's all but natural to see enthusiastic, gamer-centric devices, like the upcoming Asus ROG Phone 3 and the nubia Red Magic 5S be the first to adopt it. Compared to the Republic of Gamer's device, there are still relatively few details regarding the upgraded Red Magic 5S. Company president Ni Fei did already tease that it will feature an upgraded cooling system, to make the most out of the new chip. One that we now get to see a rough schematic of.



nubia Red Magic 5S cooling solution schematic
The headlining feature of the complicated new cooling setup is silver – one of the most thermally-conductive materials known to date. As far as we can deduce from the early info, provided on Weibo so far, the expensive material, under the "ICE Ag" marketing title, will either be used for coating certain components or as an entire thermally-conductive pad. Working alongside it on the Red Magic 5S will be a large 4843mm² heat-dissipation copper "foil", as well as big vapor-chamber pipes, high-performance thermal gel and, of course, the signature Red Magic built-it active cooling fan. A 15,000 rpm centrifugal unit, with Improved North-to-South airflow in the revised Red Magic 5S design.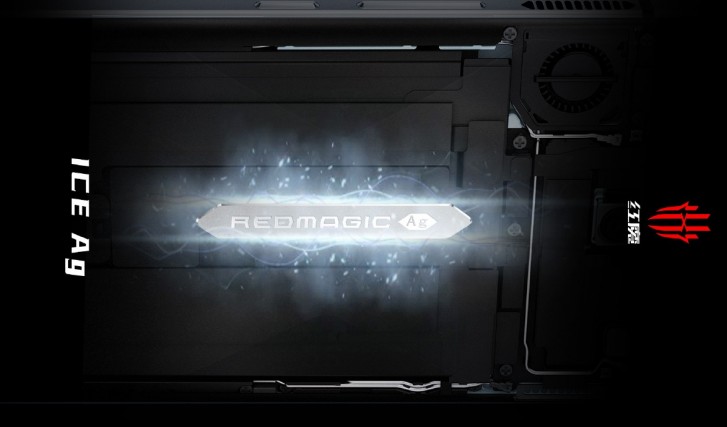 This description is hardly precise. Plus, we might have missed some subtle aspect in translation. Looking at the blowout schematic and making some assumptions, we think that the big flat plate near its top, right underneath the oval piece that we see sticking out of the glass back of the phone in other renders is the actual silver or silver-coated one. Right below that, we can clearly see the active fan on the left and what is probably the motherboard, housing the Snapdragon 865+ chipset and its external modem solution, among other things. Alternatively, that could also be the 4843mm² copper "foil", in direct contact with the chips. On the other side of the main board, we see a big heat pipe/vapor chamber, with yet another unit positioned between the metal middle frame of the phone and its display. Dissipating heat from that, uniformly to the display itself are likely a few graphite films. At least that's the conventional way of doing things. It's clear that a significant portion of the phone's components are actually part of its advanced cooling solution.
As for other rumors about the upcoming Red Magic 5S, we expect it to pack LPDDR5 RAM and UFS 3.1 storage, alongside the new speed-binned and overclocked Snapdragon 865+ chipset. The latter is expected to be the most major upgrade over the existing Red Magic 5G. The new 5S will likely borrow the overall dimensions and 144Hz AMOLED display from its sibling.
Source (in Chinese)
Share it