News briefs for the week take a look at P&G introducing robot packagers, three looks at new-age "farmbots" from corporate giants (John Deere and Alphabet) to a lone Kansas farmer, robotic technology entering the power industry, and a growing national trend for AI-guided robotic trash sorting. Changing of the guard for P&G's blister packing […]
News briefs for the week take a look at P&G introducing robot packagers, three looks at new-age "farmbots" from corporate giants (John Deere and Alphabet) to a lone Kansas farmer, robotic technology entering the power industry, and a growing national trend for AI-guided robotic trash sorting.
Changing of the guard for P&G's blister packing
Getting Procter & Gamble's bottles of Olay skin lotion into blister packs is a tricky maneuver that until recently only human hands could correctly master.
However, the clock is ticking on all manner of manual labor for most anything in manufacturing, and so it was with the emergence of dexterous robots that are now poised to take on P&G's blister-package packing, more cheaply, faster and more accurately than workers.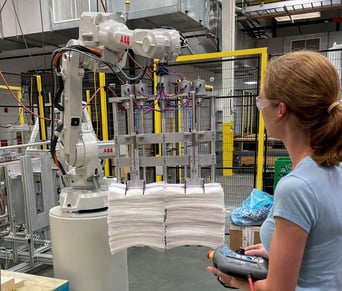 At the consumer product giant's CoRE Fabric and Home Care Robotics Laboratory on the outskirts of Cincinnati, researchers have programmed a robot to do the job.
"The robot arm plucks two bottles at a time from a box and lays them into the blister packs dimples with the labels facing forward so they're visible when the package is sealed.
"That's the key—getting the labels exactly oriented," said P&G's Mark Lewandowski, director of robotics innovation. "We'll be rolling this out in the next month or two" to P&G's factories."
Developing any automation advantage has helped P&G compete in businesses where shaving fractions of a penny off the cost of making anything is essential. All those fractions of a penny saved can add up to billions of dollars earned.
The essence of Lewandowski's mission is to continually develop those kinds of robots and grippers "that can handle bottles and tubes of many shapes and sizes and get them into increasingly complex packaging."
John Deere now "big driver" of ag robotics
After years of toe dipping at building autonomous equipment for precision agriculture with Carnegie Mellon's National Robotics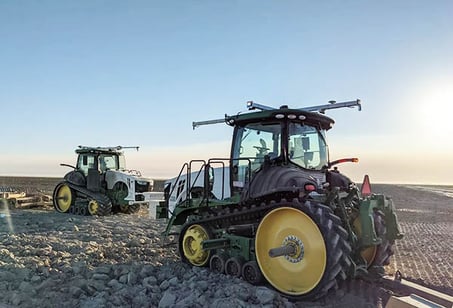 Engineering Center (NREC), farm-equipment giant, John Deere has jumped head first into agricultural robotics. Credit recent advances in robotics and artificial intelligence, and the resulting surge in new applications in precision agriculture.
"John Deere putting its stamp on this kind of fully autonomous technology means it's really coming," says George Kantor, a Carnegie Mellon roboticist.
Back in 2017, Deere acquired startup Blue River Technology and its intelligent weed-killing robots, for $305 million. August of 2021, sees Deere returning to Silicon Valley to acquire yet another newbie, ag robotics maker, Bear Flag Robotics, builder of fully autonomous farm tractors and kits to retrofit autonomy to existing tractors, for $250 million.
It's been forty-eight months between acquisitions, which means that Deere is spending $11 million a month to drive its current move into farmbots.
Alphabet (Google) farmbot harvests tons of data
There's more than food awaiting harvesting in the globe's fields and farms. Data is there by the exabyte and Alphabet has built a farmbot to scoop it all up.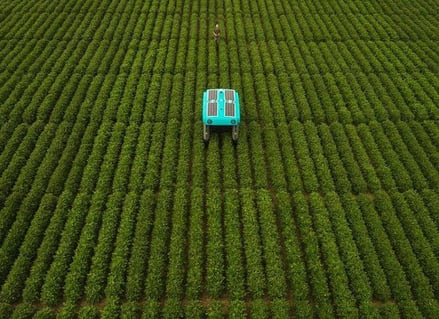 Alphabet's blog says it's all about "computational agriculture, in which farmers, breeders, agronomists, and scientists will lean on new types of hardware, software, and sensors to collect and analyze information about the complexity of the plant world."
Called Project Mineral, Alphbet's farmbots (sitting atop upright pillars) roll through fields above plants so as not to damage crops.
The farmbot's goal, adds the blog, is to collect huge amounts of data about how crops grow, recording "information such as plant height, leaf area and fruit size.
"And all that data is plugged into a machine-learning system to try to spot patterns and insights useful to farmers."
With 1 percent to 5 percent efficiency gains in harvests considered wonderful by farmers, any extra advantage from Project Mineral's data harvesting would be very much appreciated.
Alphabet is determined to oblige with its computational agriculture farmbot.
Kansas farmer resolves to help with own farmbot
Clint Brauer's farmbot beheads pigweed, which is an aggressive, invasive nuisance that bedevils farmers who, like Breuer, choose not to use herbicides.
Pigweed not only steals moisture and nutrients from Brauer's row crops but also harbors a litany of crop pests like cucumber virus, European corn borer, flea beetle, strains of Fusarium, tarnished plant bug, and the green peach aphid.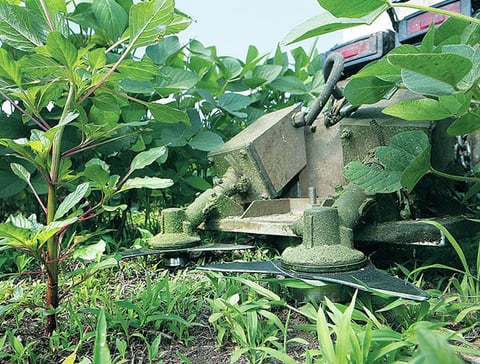 "I realized there was no great way to get the weeds out at scale without chemicals," Brauer said. "I needed to invent one."
So, he started Greenfield Robotics. Greenfield's single robot creation is Brauer's mechanical weeder that travels between rows of crops chopping off weeds at their bases with steel cutters.
"I came up with the idea for it (a robot) and tested it manually," Brauer said. "No one knew if it would work. It has to fit between rows."
"Our mission was always to get the chemicals out of farming. There is no resistance to the spinning blade." Traveling at speeds of up to 3 mph, the 200 lbs. weed hunters move between crop rows cutting weeds but leaving the chopped weeds behind as fertilizer and to help retain moisture.
In addition to his own crops, Brauer's Greenfield Robotics provides robots as a service (RaaS) for other nearby farmers.
"The company charges per acre at the same rate the farmer would pay for chemicals. It usually takes about three run-throughs per season for each crop, but that might change by climate." Brauer hopes to expand to other states.
Robots shaking up the power industry
Robots in the power industry are coming on strong and taking on an ever-greater share of responsibilities. So much so, in fact, Power Technology is offering up a new definition of a robot: "robots are being redefined as physically embodied artificial intelligence (AI) agents."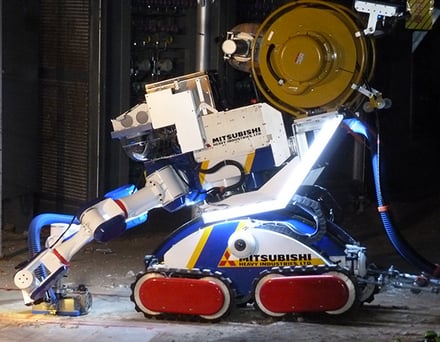 GlobalData's latest theme report, Thematic Research: Robotics in Power highlights that for the power industry, "the main goal of robots and drones is attaining complete autonomy, without requiring human intervention, to perform inspection, maintenance, and repair activities at dangerous areas or sites such as nuclear facilities, bases of hydropower dams, and with transmission and distribution (T&D) lines."
Currently, the report continues, "there are three main use cases for robotics in utilities…inspection of assets, automated and remote maintenance, and handling of nuclear materials." Definitely the essence of dirty, dull, dangerous jobs that are unfit for humans.
Analytics Insights, for its article on the subject, How Is The Power Sector Keeping Up with Robotics Innovations In 2021?, explores the top five:
Hitachi Nuclear developed a self-propelled and articulated robot known as the Surveyor to inspect a long length of pipe in a South Texas nuclear power plant
Toshiba decontamination crawler robot was used in the Fukushima nuclear power plant
TELEMAN 44, TELEMAN 48, and TELEMAN 50 are kinds of the Messina robot to transport bulky and heavy loads in hostile situations
MIT researchers developed a robot prototype to enhance the security of nuclear power plants
Mitsubishi developed a radiation-resistant robot known as MESITeR (Maintenance Equipment Integrated System of Telecontrol Robot) with sophisticated tools.
AI-guided robotic trash sorting gains in popularity
Rumpke, Cincinnati-based recycler, acquired three AI-guided robotic trash sorting systems for $2 million, and plans to add another next month and one other in the fall.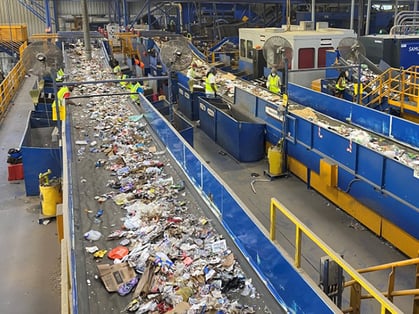 The company says the addition will do two things: "increase the number of items that can eventually be recycled here and provide a cleaner product to end users."
A Rumpke spokesperson said "the average worker can pick out 30 items from a fast-moving conveyor belt, compared to 70-80 picks for the robot."
With artificial intelligence, says the company, the robots will only get smarter. Another machine is currently training them on what kinds of plastics to pick out.
In automating its system, Rumpke is following a national trend among the country's 600-plus recycling facilities that collectively process 67 million tons of waste. Automated recycling is in, and manual sorting on the wane…quickly!
But, as a spokesperson for Rumpke admits, the robots still make mistakes.
Share it